Madrid - The Urban Heat Island effect
12/02/2019 00:05 - Posted by Tom van Leeuwen
This week, the capital of Spain, Madrid, will receive a lot of worldwide attention because of the 25th meeting of the Conference of the Parties to the UN Framework Convention on Climate Change (UNFCCC). 20 Thousand bureaucrats fly to the city to assist the conference.
There will be very little attention to the question
whether there is a problem or not
while there will be a lot of attention to the question
what to do about this supposed problem
.
Without any doubt, all fingers will point toward the human influence on the climate, and up to some extent, they will be right!
But for the wrong reasons
.
Let's take a look at Madrid's temperature. We could have chosen any big city worldwide, but let's take Madrid as an example.
In the picture above, you see the temperature distribution of Madrid and its surroundings. There is a significant, 8-degree Centigrade, difference between the temperatures measured in the city center and its airport, compared to its surroundings. This is called the
Urban Heat Island effect
and its caused by the heat retention of asphalt, concrete, and other structures.
The temperatures that will make up the city's temperature record are measured in the city center and the airport (Barajas), right in the areas with the strongest Urban Heat Island effect. So, the temperature is measured at the hottest places!
Now, let's have a look at Madrid's population growth over the past century.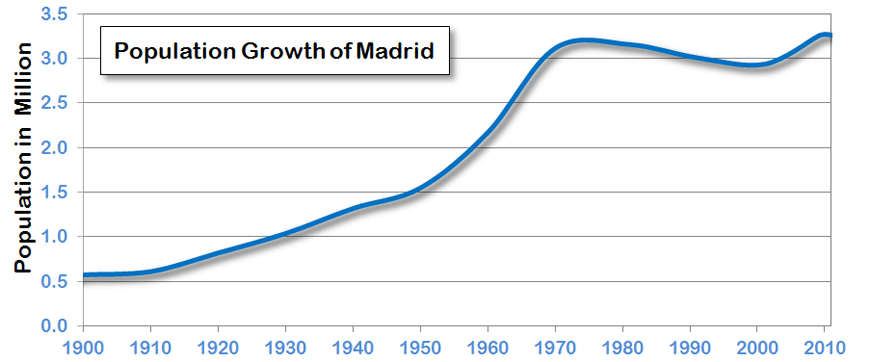 the population has increased sixfold, so It's quite safe to assume that the Urban Heat Island effect is much stronger now than it was one hundred years ago and that most part of any possible temperature increase is due to this.
In order to be able to compare historical temperatures with today, data has to be adjusted in order to compensate for this effect. The past data should be "warmed," or the present data be "cooled."
But climatologists are doing the exact opposite
. They systematically cool the past and warm the present without any justification, creating a completely fake sense of warming. This as well is "human-caused" climate change.
Then, taking into account that these changes started at the end of the coldest period of the last 8,000 years, the Little Ice Age, there is minimal warming left to be explained by other causes, like CO
2
.
During COP25 Madrid, all attention will go to CO
2
and how to reduce our emissions, but the two main reasons for our changing climate and how we measure it will be neglected:
Natural cycles and the Urban Heat Island effect
.
Tom van Leeuwen December 2nd, 2019.